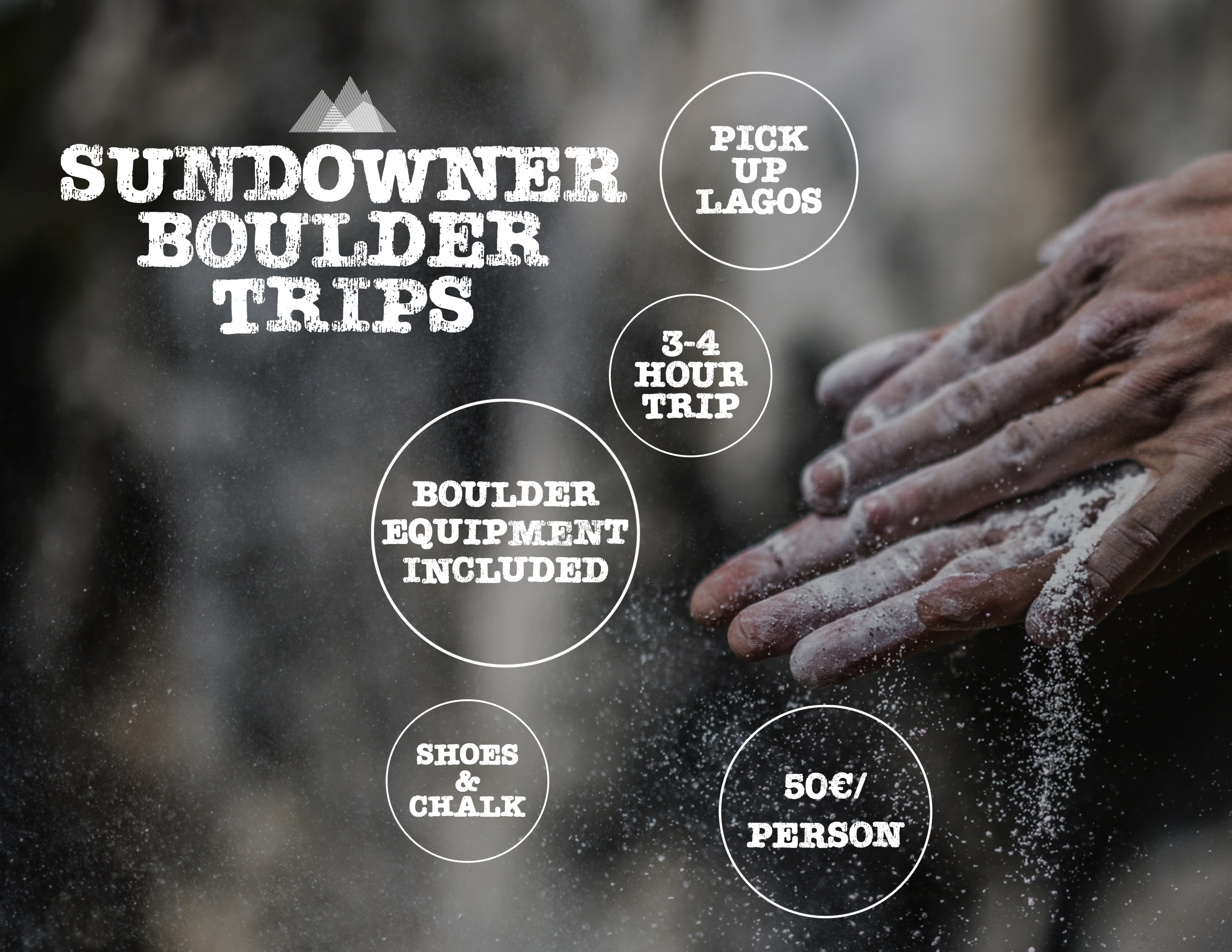 Searching Availability...
Join our thrilling Sundowner Bouldering Trip tailored for sportive and adventurous individuals, welcoming both beginners and intermediate climbers. Choose either Praia da Luz as our meeting point or take advantage of our convenient pickup and drop-off service in Lagos. Get ready for an action-packed 3-4 hour experience complete with crash pads, chalk, and climbing shoes provided.


As you conquer the breathtaking landscape of the Algarve coastline, don't forget to bring along a snack and a refreshing beer to celebrate this unforgettable journey and fully immerse yourself in the stunning surroundings.
For beginners, fear not! We've got you covered. Our experienced guides will introduce you to the basic climbing techniques, teaching you how to use the crash pad effectively and becoming a spotter to ensure safety for all. You'll learn the ropes and gain confidence in no time. As we explore the bouldering area, our guides will showcase different lines suited for various skill levels, helping you push your limits and conquer your projects.
Bouldering isn't just a sport; it's a social experience. The camaraderie and the mutual support among climbers make it even more thrilling. Our adventure wouldn't be complete without the bonds forged along the way, as we cheer each other on and celebrate every successful climb. Get ready for an unforgettable journey guided by our passionate team, as we delve into the heart of this extraordinary adventure together.
URGENT NOTE: We need at least 3 Persons that the Bouldertrip will start.

Included
Pickup / Drop Off In Lagos / In front of the Garage under the Pro Putting garden 
Transport to the boulder location
rental Climbing Shoes 
Crashpads & Chalk 
awesome guide 
GET IN TOUCH
Keep your Algarve contacs up to date and reach us as you like it most!